Lately I've tackled a few home improvement projects. I needed to replace the horrendous vinyl flooring in our half bath. It's the main bathroom we use during the day and the one any visitors use most. The floor replacement turned into an entire room remodel, but I'm really happy with the results and glad I did it. I recently bought bunk beds and a hope chest off of craigslist. They are in the process of being refinished, but I'll post picks when they are done.

This is a picture I made of Miss Clare. I just used photoshop to create the black profile from a regular photograph and covered the mat with scrapbook paper. I love how it turned out. It makes me smile every time I walk into the kitchen (not its permanent location, just where it is until I decide where it will go).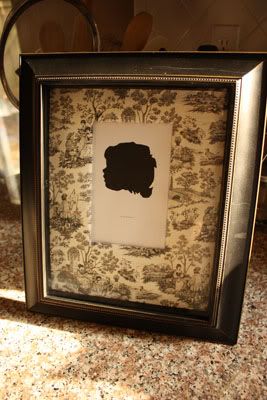 Our new vanity, faucet, towel holder, and toilet handle (I can plumb!)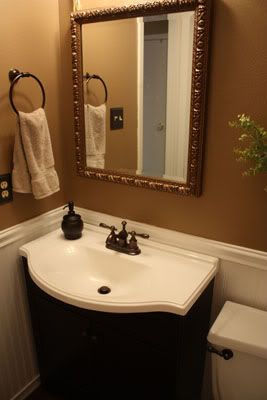 Another view with arrangement in candle holder from Target. I needed something the kids couldn't knock over.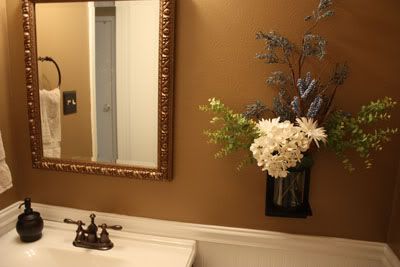 New magazine rack, canvases covered with scrapbook paper, and I love my sign!




You can actually see the floor in this one. It's Armstrong vinyl plank flooring. I love it! It is so much better than our laminate, and I love that I don't have to worry about water on it.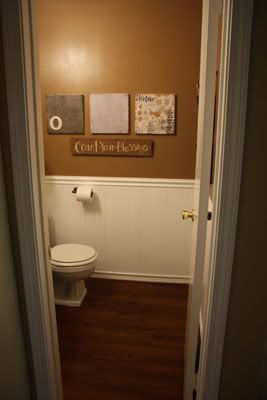 It was a lot of work (tearing out old floor and vanity, installing new floor, painting and installing wainscotting and crown molding, installing new vanity requiring new plumbing under the sink, touching up wall paint, installing new bath hardware) but very worth it! It is like a little sanctuary in the midst of the chaos that is my life.